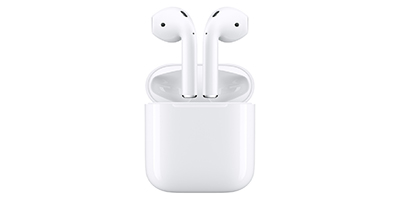 Best of the rest: Alternative earbuds to Apple Airpods
princejumbo, 2 years ago
0
6 min

read
2741
Let's face it, earbuds are making some big noises ( no pun intended) right now all thanks to Apple. You're probably reading this due to the influence of Apple, aren't you? Either way, earbuds have become a hot topic and rightly so.
With that in mind, i've searched far and wide for THE best earbuds alternatives. If you're after earbuds with no cables that are sure to provide you with the quality you deserve for anything between £130-£170 then keep reading.
Here are the best of the rest: Alternative earbuds to Apple Airpods
Bose Soundsport Free wireless earbuds: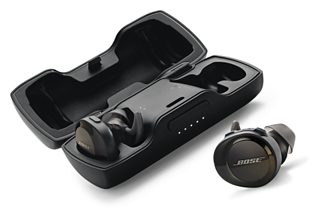 Judging by the name I'm sure some of you are thinking that this is only earbuds for the gym? Wrong. You can literally wear this anywhere. Bose and sound go together like Kennen and Kel, Fish and Chips and Annalise Keating and death( How to get away with murder). The fact of the matter is, these are earbuds for the everyday life experience.
As you can imagine, the sound quality is better than most whilst the design is questionable. The Bose Soundsport definitely has a bit of presence to it, in fact, you could be mistaken in thinking that these would be too heavy. As big as it looks, looks can be deceiving. Light enough for you to wear and secure enough for you to train in thanks to the wingtips.
Truth be told there may be a slight struggle with the control buttons on the earbuds. They exist, sure but the lack of feedback gives the impression that there isn't anything there at all.
But let's talk about the sound. Anything Bose does you can be sure that the sound quality is one of the best around. There is a lot of detail but what seems to be a constant Bose theme is the lack of base when you increase the volume to the full capacity. So if base is your thing you may be left slightly disappointed if your volume is on the maximum.
With 5 hours of battery life and 10 extra with the charging case, you can be sure that your earbuds can go on for a while without the need of plugging it into a wall socket. But just in case you need to a 15-minute charge would give you 45 minutes of life.
Priced at £170 the Soundsport Free wireless doesn't disappoint after all its Bose.
Jabra Elit 65t: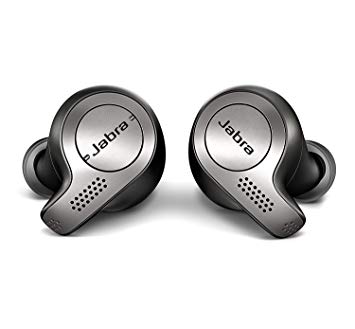 Not well known like Bose but that doesn't matter. Jabra has created well-balanced earbuds to their credit. Dark coloured earbuds with what is becoming a typical earbud style make it very similar to Bose in looks alone.
Nothing easier than taking your earbuds out of it's charging case and they automatically turn on. Only the Jabra seems to do that. Once you've removed them and your phone Bluetooth is on they connect instantly.
The sound quality is pretty good, don't expect to hear the punchiness of a Base but in terms of quality, it is definitely greater than the airpods. You can adjust the background noise on the Jabra app to either isolate your background or allow noise in to make you aware of your surroundings.
The 5 hour usage time might be enough for some people but if your anything like me make sure your charging case next to you at all times so you don't go without your music for too long.
Starting price is £128.24 making it one of the cheapest on the list.
B & O Play Beoplay E8: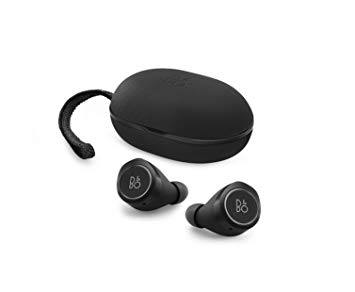 This is a good looking earbud, from the design of the earbuds to the charging case B & O have shown what can happen when you pair style with tech.
The earbuds are small, smooth with no physical button with all commands being done by touch-sensitive pads. At first, it can be quite tricky to navigate but after a few tries, it becomes natural.
Unlike any other earbuds B & O have NFMI technology ( it's used in hearing aids) tech on board. With this, they claim it not only reduces audio drop but remains consistent in sound distribution. As its B & O you already know the sound quality would be top notch.
No matter your sound preference you would be able to adjust the sound quality with the app. You want it loud? Cool, do it. Do you want it at a softer tone? You can do that too. Do you want background noise? You can do that too.
The downside of these earbuds is that they can be a bit too snug. Imagine that. Not everyone would favour how deep it can go inside your ear but those who do wouldn't regret the sound it produces.
You are able to get 4 hours out of these. If you happen to be in a rush pop the earbuds back in the case for 20 minutes and you'll be able to get up to an hour worth of playback.
A price of £160 makes this the most expensive earbuds on the list.
Jaybird Run: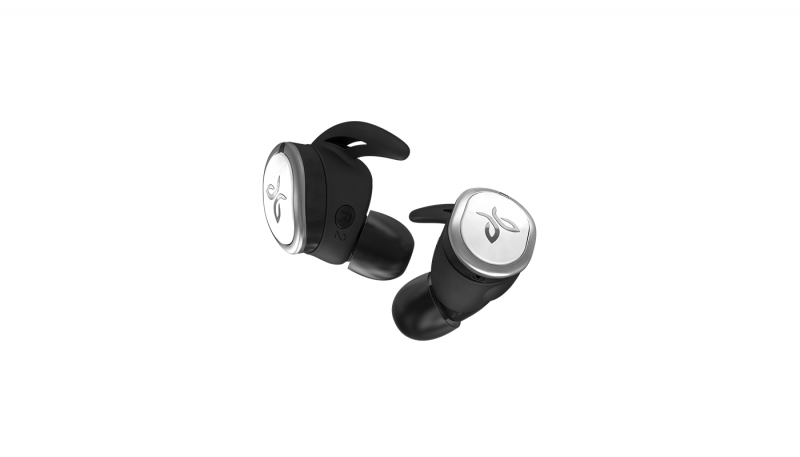 This isn't their first entry into the wireless game and it definitely shows with the Jaybird Run.
There's nothing that makes these earbuds stand out from the rest as it follows the earbud template of being minimalistic; look closely and you can spot a mental ring running around the logo which is the only real distinguishing feature. That's an antenna which – on paper – should give them an advantage over the rest who have internal antennas.
The Jaybird Run sports the fin which creates a secure fit whilst you're working out or doing normal everyday task. Once they're in the upper groove of your ear they wouldn't be noticeable.
Sound quality is pretty decent if you're not satisfied with it you can use the app to manually tweak the quality to your preference.
Whilst the quality is good, the fit is perfect the buttons on the earbuds are the annoying part. Both earbuds have a button to turn on/off, pause, skip and go back whilst your listening to music/podcast. Constant use of the buttons may cause you to feel a slight pain.
If you're anything like me using your phone to manually handle the controls wouldn't be a big deal.
Priced at £113 making these inexpensive compared the alternatives.
Sony WF-1000x: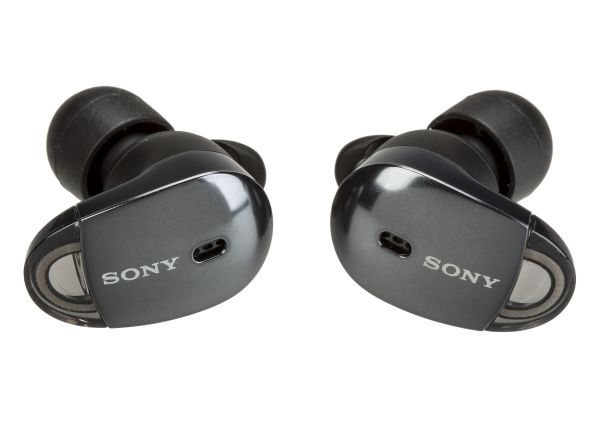 You would expect a brand of Sony's calibre to dominate when it comes to sound considering all their years in the music industry in various formats. This is what you would expect-quality sound but it falls short in the looks department.
They may not be the best-looking earbuds you lay hands on but honestly do they need to be? The WF-1000x are discreet enough that you rarely notice them whilst giving you throwback feel with old school Bluetooth headset look.
But the sound? One of the best on this list, a nice balance of sounds means switching from Daniel Ceasar to Drake wouldn't be a problem. With active noise-cancelling, riding on public transport just became enjoyable.
Annoyingly there seems to be a setback. The Sony WF-1000x only last 3 hours so you can expect to be putting these boys in the case far often than you would like.
Price starts at £124.
Related posts