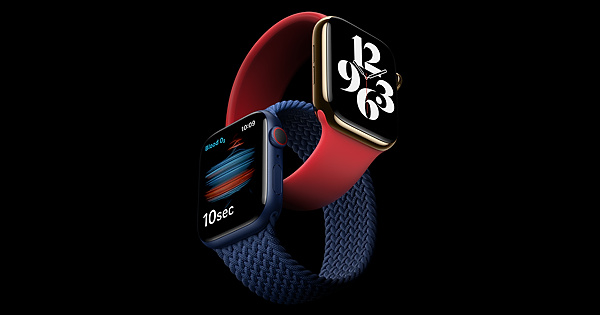 Apple Watch S6: a continuation of great craftsmanship
princejumbo, 5 months ago
0
3 min

read
145
Apple Watch 6 is a good time as any to select on the great work that Apple have done and continue to do in a market that was once neglected. As always Apple wasn't the first, but one thing was clear; they had the best idea which others wanted.
Don't believe me? Then look no further to the recent Oppo Watch ( the name is a clear indicator) and a few other pretenders that have popped up but not only with similar names, but also design factor. Which makes things more abundantly clear; Apple influence hasn't waned but rather it continues to showcase why both competitors and consumers alike admire them.
So what does Apple have to do to continue attracting admires? Judging by this, not much as the form factor has remained the same but with a few more tricks up its sleeve.
Design
11 colours / 3 materials: aluminium, polished Stainless steel and brushed titanium

Square face

Always on display

Digital crow

Solo band
The Apple watch continues its tradition of providing two different sizes depending on your wrist size, so you can choose between the 40mm or the 44mm versions.
Design-wise, nothing much has changed about the Apple watch. And that's a good thing. Similar to the Watch 5, the Watch 6 continues its design language with a square face, pebble-shaped, digital crown and always-on display. A thinner bezel and improved battery life are on offer with this years model but with the new sensors, it would be anyone guess on how much it's meant to last.
Apple ha created straps they've called "solo loop" as an alternative to their usual method. What's unique about this design is the lack of clasp and buckle, instead, you would find a silicon band similar to rubber that you stretch over your wrist. Seems good in theory but recent news is concerning.
According to MacRumours Apple's paper measurement system doesn't work so you have to return the whole product including the watch. Apple has realised this is pointless and they're changing their policy so you can return the loop without handing back your watch.
So what's with all the hype?
The biggest noise about the new model isn't about what it looks like, but what it can do. Upstep SP02 known as blood oxygen. Similar to those found on other fitness devices this is in fact a health tracker which would mostly be used by professional athletes or fitness enthusiast.
Why? Because it helps athletes to analyse whether they've improved and identified any breathing issues which can be used as data for treatments.
That's the most significant thing the watch can do. Throw in sleep monitoring, better connectivity with your Mac, so you can unlock your Mac with your watch and an always-on altimeter.
Final thoughts
The Apple watch hasn't changed much which is a plus. With the same craftsmanship that made the watch the most copied continues in this model. With an extra few features compared to the SE the watch 6 will cost you £379 compared to the SE £269.
If you're not part of team GB, into health and fitness and don't really care about the always-on display then you're better off saving £110 and getting the Watch SE. But don't be fooled, this is the best watch around, and by this showing, will continue until further notice.
Related posts