Nintendo Switch: 2 in 1
princejumbo, 5 years ago
0
3 min

read
1379
Nintendo Switch 2 in 1 is aiming to become the gaming console of your home and your go to device whilst you're on the go.The unrevealing of the Switch took place in October 2016. Taking the best of past portable Nintendo devices the Switch is aiming to have a longevity by connecting to your TV.
A new console from Nintendo has had an increase of expectations. With poor Wii sales, they will surely be looking to make up some ground on the ever populated gaming market dominated by mobile devices; especially the iPhone.
Ok… But what is it? 
In a nutshell, the Switch is a game system that can be connected to a TV like a regular console with a difference. You have the ability to use it in a tablet style with its own controllers away from the main unit. The device is home to a 6.2-inch screen that comes with its own kickstand and removable controllers that are similar to the Wii Remote.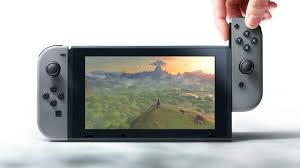 Why is it called Switch?
The devices give the user the ability to "switch modes". The switch dock is when the Switch lives which would be near your TV screen. The 6.2-inch screen is a large tablet that slides into the dock and switches into TV mode.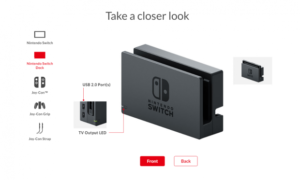 Games?
Only 5 titles to speak off on launch. Zelda being the main household name when it comes to Nintendo would be one of the main games released on launch date ( 3rd March) with 80 other titles in development.
Like most game consoles of the modern era, the Nintendo Switch would also give users the ability to download games.
Multiplayer games can also be played with up to 8 Switch devices without the need of an internet connection. However, Nintendo's online multiplayer will require a paid subscription after the first month.
How long will it last away from the TV?
With heavy gaming, it's been suggested that the Switch could last between 2.5 to 6.5 hours.  Doesn't sound great but the devices can be charged easily with a standard  USB Type-C charger which connects to all the battery packs out there.
How do the controllers work? 
The controllers easily slide onto the switch tablet from the side, adding extra buttons and an analog stick similar to Joysticks of old (a node to gaming devices of the past) including elements of recent devices such as shoulder buttons similar to the Wii U GamePad. Slide them off and they can easily be used to play games.
Pricing? 
Reasonable at £280 if you're after a console that lets you switch gameplay from handheld to TV with ease.
Overall a solid device but Nintendo may not do a lot more on its current offering to make you part with your money. One to surely look at for those after a new game console in 2017.
Related posts