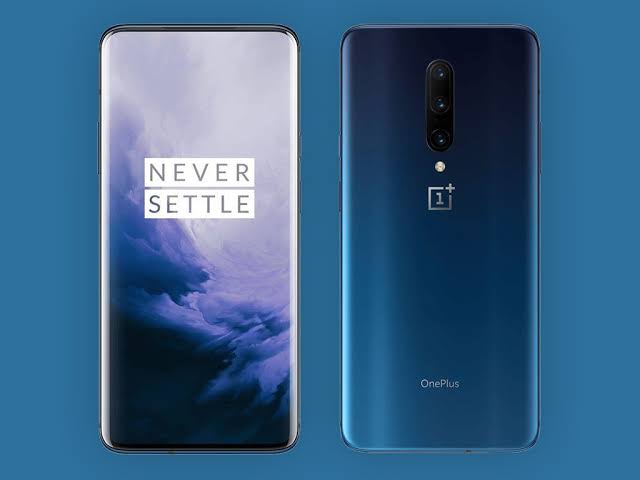 OnePlus 7 Pro: A phone closing in on the summit
princejumbo, 2 years ago
0
7 min

read
1642
It's been a while. A long while in smartphone years but we got there. Written since the OnePlus 3 year the One Plus has always been a company with a plan. A plan of conquest, but first they knew that they needed to challenge. And they've been doing just that with the latest OnePlus 7 Pro.
Growing into one of the best selling smartphone companies hasn't been easy. But year on year it's been clear that is exactly what is happening. Offering phones just a cut below their competitors but yet still keeping the devices at a high level wouldn't have been a route for some, but it was the right one for them.
And here we are where their prices and phone are both at the premium level. And why not? With their mantle Never Settle It's only right that they start to price their devices for what it's worth.
Design
Mirror Grey/Nebula Blue/Almond
Water/dust resistant (no IP rating)
162.6 x 75.9 x 8.8mm; 206 grams
After looking at this phone, it's undeniable that it belongs at the very top alongside Huawei P30 Pro and Samsung Galaxy S10+. As expected both the rear and front are covered in glass that curve, giving it a premium feel and look.
My colour of choice is Nebula Blue, closely followed by "Almond". What you will notice about the One Plus is that each colour has a different finish. The Blue has a soft sheen while the " Almond", and Mirror Grey have glossy feel like the rest of the market.
What I would call the most significant part of the phone is the display. The AMOLED screen dominates the front of the device without an annoying notch or even a hole-punch camera in the way, making it one of the best phones to watch your Netflix series. Following the usual curve edge design, the screen truly is one to see in person.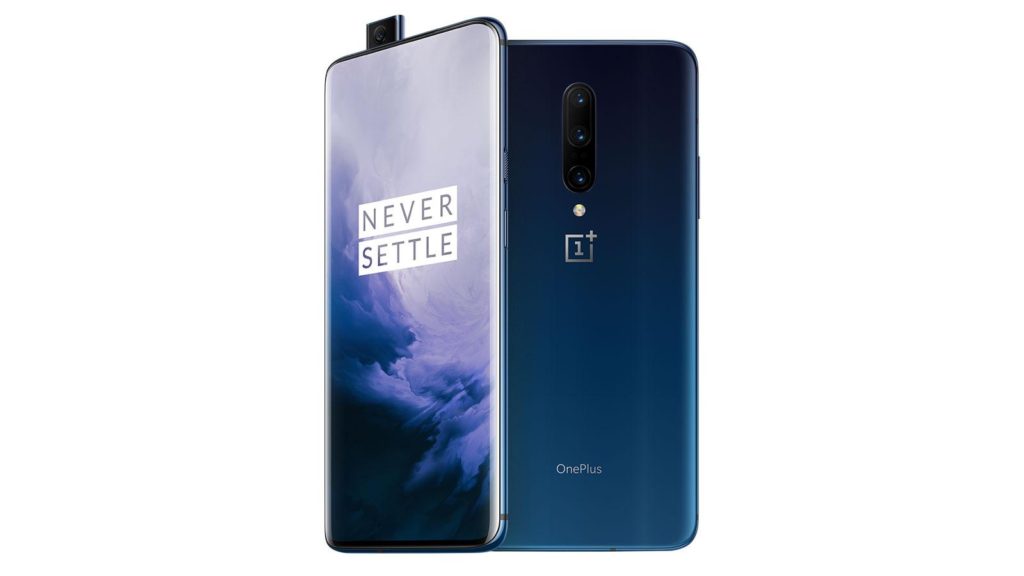 To make this happen, we can only imagine the amount of thought process that went into the final design. For instance, the front-facing camera is no longer visible, but it now lives inside the phone due to a small pop-up mechanism that was created. I originally had my suspicions about how secure this would be but that no longer exists. My fear was based on what happens if the phone falls. Well, the camera retracts itself, ensuring that if there were any damage, it would be kept to a minimum. Considering that there is also a rubber seal around the area making it protected against water.
A massive improvement made by One Plus is the speakers. The speakers have the backing of Dolby Atmos ( Dolby is the Big Daddy in the sound game). The speakers are on top of the device as well as the bottom making sure that you no longer have to deal with adequate sound quality.
Screen
6.67-inch Fluid AMOLED
QHD+ resolution – 3120 x 1440
Curved edges
HDR10+ compatible
Notchless
Ok. There's no other way to say this, but the screen is one of the if not THE best display out there right now. This isn't to say the likes of Huawei, Samsung and even Google Pixel are poor; instead, it is to indicate how far One Plus has truly come. What's most apparent is the sharpness of the device which was lacking in previous models. With the addition of Quad HD+ resolution, it has taken the viewing experience to another level; from watching the Last Kingdom to reading a text, the sharpness is a consistent ( well done OnePlus).
Bigger and better
4,000mAh battery
Warp Charge 30 – 30W fast charging
To go alongside that huge screen, you would need a big battery, and that's precisely what we got. The One Plus is fitted with a 4,000mAh battery, making sure that you get at least a day out of your new device. If you're anything like me; podcast listener, music listener, twitter reader, an Instagram watcher and map user ( 100 points go to you if you read that with the same flow in who are you – Chipmunk) you would need to charge it up at some point during the day.
Internal
As always the Andriod 9 is the software of choice. What's more interesting is what OnePlus has decided to do. Including a Parking Location service means you can park, mark the location and go about your day without a care in the world. Good move.
To locate this means going into Shelf which is on the left side of the home screen, where there would be other widgets and shortcuts.
OnePlus had to get creative with the full-screen display. Your phone will light up from the side to notify you about incoming messages. The colour would be different depending on the app. Not to worry, you will be able to turn this off in settings.
Probably the most exciting feature is Quick reply. Quick reply gives you the chance to respond to people immediately while you're in the middle of playing a game. Two small windows would appear on both sides of the device, giving you the chance to tell people you're busy.
What makes it tick
Snapdragon 855 processor
6GB/8GB/12GB RAM options
128GB or 256GB UFS 3.0 storage
Another expectancy. The beefing up of the internal specs of the phone. It was going to happen if not there is no way the phone would be able to handle, streaming and the beast of a display on top of it.
With the latest Snapdragon processor on board, it does more than trickle along. Powering through your day to day task couldn't be more straightforward, throw in some hardcore games and consistent swiping on Instagram would become child's play to this chip.
A significant improvement from the 6T is said to be the in-display fingerprint reader. A lot of people complained about the consistency, but that seems to have been taken care of in the model. And rightly so.
The fingerprint sensor itself hasn't changed much. But the addition of a bigger sensor cannot be understated. Expect it to get it wrong a few times in the beginning, but it won't be anything close to the 6T.
Camera for days
Not satisfied with just a big screen OnePlus wanted to showcase their intent of challenging the very best with the triple camera setup that is popular this year.
As you can imagine, this means an ultra-wide, wide/standard and 3x telephoto. With this setup, you can expect it your image shots to be good. That's because there is a lot of processing going on behind the lens. With what OnePlus dubs "Utrashot" ( a combination of both HDR and sharpness algorithms) means the camera takes multiple images at different exposures, layers them up and combines them.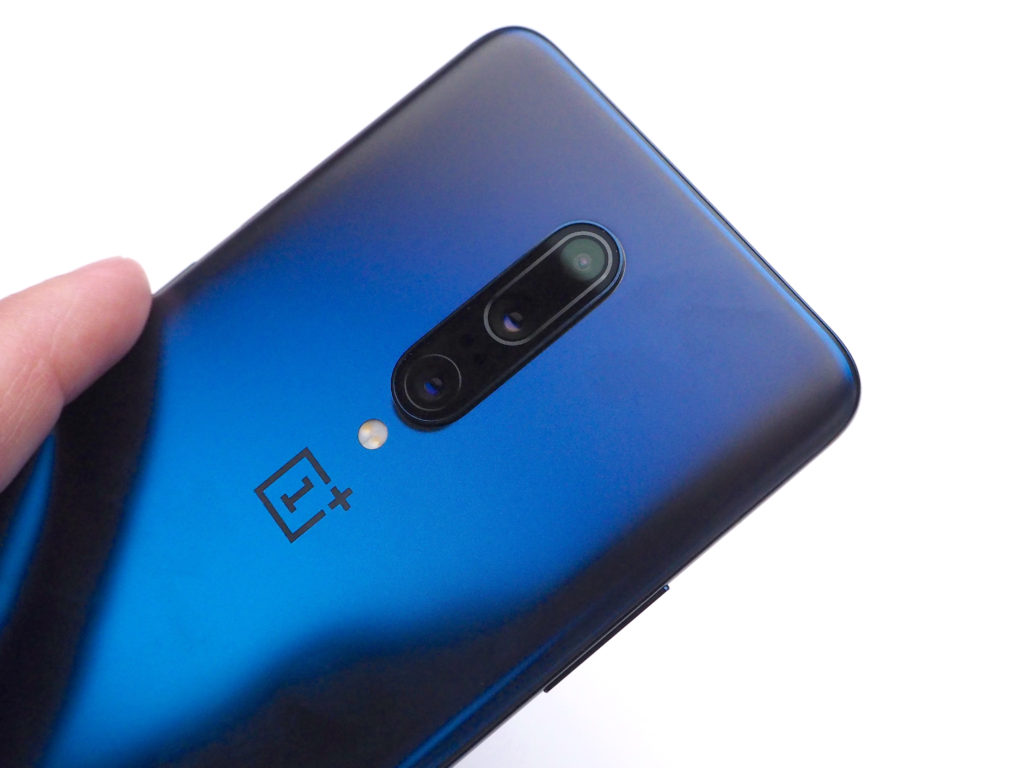 Numbers aren't as significant as they used to be when it comes to finding the best phone camera. But for argument sake the OnePlus primary camera is 48-megapixels, but it combines four pixels into one for each auto shot, giving you a 12-megapixel image that showcases how detailed and colourful it is.
Low light shots is an area they're bound to fall short in comparison to Google and Huawei. The OnePlus does look to struggle more than the rest but is still able to create a decent shot.
Final thoughts
OnePlus have shown their metal and are giving the big boys a run for their money. With their fantastic screen and speed, they've done an excellent job of staying in the range of the competition.
And that's it. They are staying in range, nothing more and nothing less. To overtake the likes of Huawei, Samsung and Pixel, they have to step up their camera game.
Overall the OnePlus is the alternative option to what's already out there. With a fantastic screen, speed to challenge even Sonic, they are more than deserving of their current price point, which all leads to an enjoyable mobile experience.
Related posts