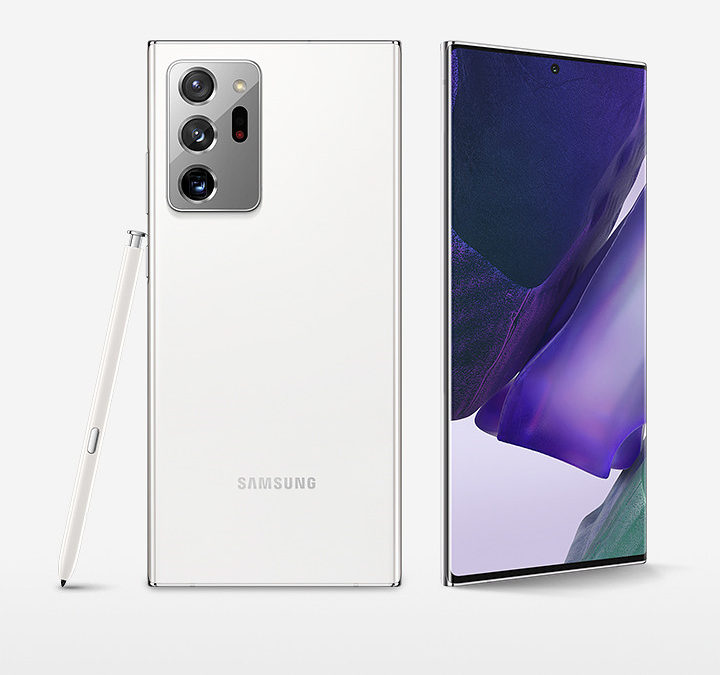 Samsung Note 20 Ultra: Go big or go home seems to work with Samsung
princejumbo, 2 years ago
6 min

read
389
Being a decade old is a big deal in the smartphone world. You've cemented yourself as a player, as a game changer, as one who has outlasted the times and have continued to be what a customer wants. And that is exactly what the Note series have done.
The Note range may not have changed since its first edition, big screen, stylus and the amazing note features, but one thing is clear every year; there are improvements to the features that we have come to love and appreciate.
Design
Finishes: Mystic Bronze / Mystic Black / Mystic White

Gorilla Glass 7 protection front & rear

Under-screen fingerprint scanner

IP68 water/dust resistance

8.1mm thickness
As the model before the Ultra name isn't for show. With an 8.1mm thickness, bulging camera bump at the rear end (which by the way is one of the most annoying thing about some mobile phones) and the Mystic colour range makes it clear that this model is different than its smaller brother. Samsung Note 20. Speaking of its rear, you will find Gorilla Glass 7 on the back, same as the front, in case of any accidental drops.
Display
6.9-inch Super AMOLED display

WQHD+ resolution (3088 x 1440)

Adaptive refresh rate up to 120Hz (but not at WQHD+)
With the 6.9-inch Super AMOLED display, you're guaranteed blacks and colours that will pop on those curved edges. Unlike the Note 20, the Ultra takes full advantage of its screen by giving it the refresh rate it deserves, 120Hz. Scrolling through social media is smooth and easy on the eye as well as gaming.
However, to take full advantage you will need to enable it in your settings once removed from the box. The phone pre-determines what's best for you based on your usage in real-time. Something else to note (pun unintentional) the 120Hz can't be used with the phone at its full resolution so you have an option to make. Cut down on the visual aspect to get the best out of the refresh rate, or use a lower refresh rate for better visuals. The choice is yours.
But one thing to keep in mind if you go for the higher refresh rate. It decreases your battery quickly. With the option of changing the refresh rate, you can always decide to choose 60Hz if you find that your battery is draining a bit too quickly.
Camera
Triple rear camera system:

Main (26mm): 108-megapixel, f/1.8 aperture, 1/1.33in sensor size (0.8µm pixel size), Laser Autofocus, Optical Stabilisation (OIS)

Zoom (5x optical; 130mm): 12MP, f/3.0, 1.0µm, OIS, 50x hybrid zoom

Wide (0.5x; 13mm): 12MP, f/2.2, 1.4µm

Front-facing (26mm): 10MP, f/2.2, 1.22µm
What works on their other models can be seen on the Note 20 Ultra. With the 108-megapixel making such big impressions on the S20 range it would have been silly for Samsung to not bring it across to their Note 20 Ultra model. The major benefit of this big sensor is of course its detail. Expect to get the best details around but with a bit of a lens flare when you're not facing a light source directly.
A new 12-megapixel sensor has been added to give you that quality zoom images, which is capable of 5x optical zoom for those who want that extra bit of detail.
No one is ever truly satisfied so Samsung has added a wide-angle camera that delivers twice the field of view compared to the main sensor, which should help in capture more of your surroundings while taking those staycation pictures.
S Pen Stylus
Integrated stylus

9ms response time

New gestures & Notes features
One of the major reasons anyone would be looking towards a note is the S Pen. Has it improved over the past several years? Yes, yes it has. The S-pen is what keeps the Note on its own category because the possibilities have always seemed endless with it.
As always it can be found at the bottom of the phone so its at hand when you need it. According to Samsung, the S Pen has improved by 40 per cent. Its "air gestures" also perform better. Just like a scene out of Hogwarts you can wave your pen in front of your phone to do certain tasks.
But in order to use the full capabilities of the S Pen, you would need to use Samsung's Notes app. This is what put this phone ahead as a "Note" taking device. You're able to write as you would on a paper with the phone recognising each stroke of S Pen to form the letters while converting them to its actual words and phrases. In this latest model, there is auto-straighten which helps tidy up the format better, folder system, and with the recent Microsoft partnership, you can expect integration from the Notes app to OneNote, Outlook and more later on in 2020.
Internal
CPU: Exynos 990, 12GB RAM (for Europe)

4,500mAh battery capacity, 25W fast-charging

256GB / 512GB storage, microSD card slot

5G connectivity (sub-6GHz), Wi-Fi 6

Samsung Wireless DeX (desktop)
Majority of the internal specs of this device definitely scream Ultra, more than others. Using the handset would be a great experience Exynos 990 onboard, allowing you to get on with your day to day without wondering if you're phone can hold up. What is definitely an inconvenience is the 4,500mAh battery. Yes, it is bigger than its previous model and its definitely a big battery compared to some of the other phones out there, but this isn't any other phone. Its a Note. A note with that humongous camera at the rear. Which makes me wonder; could they not have increased the battery to a 5,000mAh range to give it's customers an even more fulfilling experience?
No matter, with fast charging on board it shouldn't be a major issue, until you look into it and realise that you've been short changed as the Note no longer has the 45w as the last model but it is now 25W. The argument here is that it should help save the battery life and help the phone have a greater life expectance. Which is all to be seen.
Final thoughts
Being at the top fo 10 years can be difficult for many but not Samsung. With the 10 years that have come and gone Samsung influence has been clear to see.
Ignoring the air gestures ( no on is really going to use it) the S Pen improvements are a nice touch and the partnership with Microsoft makes it even better. If note taking is what you're after the Samsung Galaxy Note 20 Ultra is definitely the best on the market.
The battery life is something to be desired, not the smallest but it feels that Samsung may have cheated us a little bit considering the room they would have had left to work with due to the space that was created by the camera bump.
The main camera ( all of those 108-megapixels) is another eye-watering feature that I'm sure many people would truly make use of.
The Samsung Note 20 Ultra is the ultimate flagship giving you the chance to work and play. But with the excessive camera bump it would b a reminder as to what Samsung could have added to give you that ultimate device that can last.
Related posts
Deprecated
: File Theme without footer.php is
deprecated
since version 3.0.0 with no alternative available. Please include a footer.php template in your theme. in
/var/www/wp-includes/functions.php
on line
5580
---