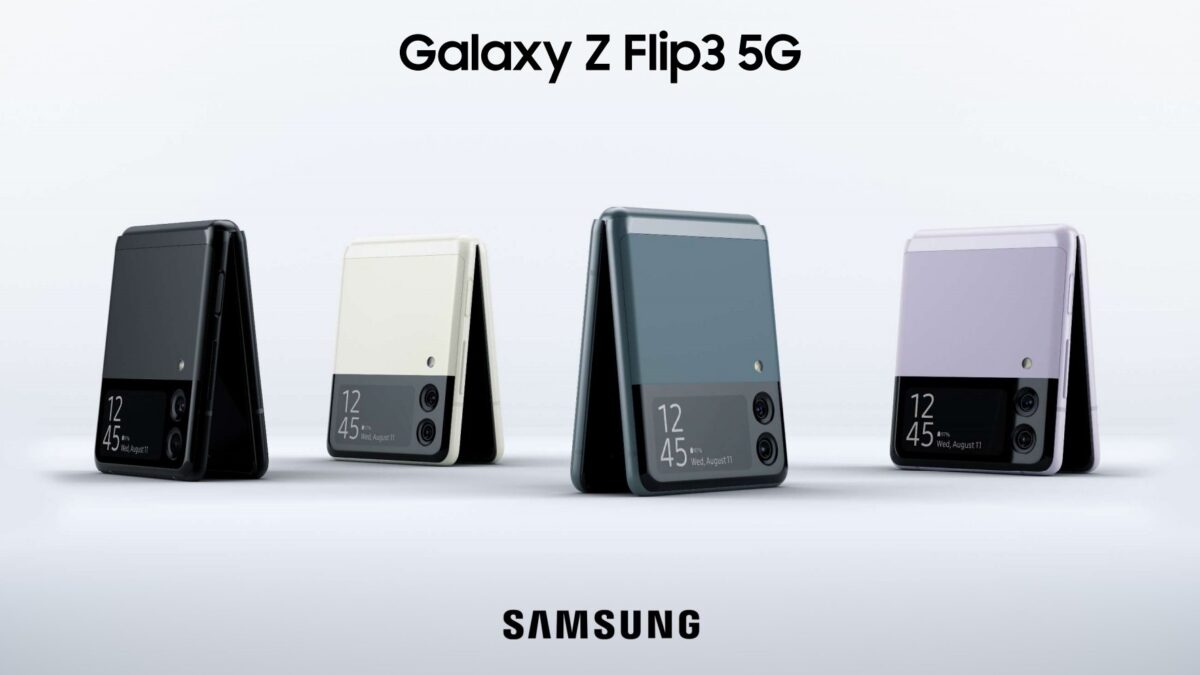 Announced alongside the Samsung Galaxy Fold 3 the Samsung Galaxy Flip 3 is another example of a foldable device that has the attention of many. And why wouldn't it? With its uncanny similarities to years gone by ( think about the flip phone era during the early 2000s ), the flip is a representation of what the past and present look like combined.
Design
Colours: Cream, Green, Lavender, Phantom Black, Gray, White, Pink

Frame: Armor Aluminum
While the Samsung Galaxy Fold 3 opens up from a more traditional phone to a miniature tablet, the Samsung Galaxy Flip 3 is a bit like a smartwatch and a phone. When it's closed you are able to see your notifications on a small screen to the left, showing you things from the news and the latest messages and giving you the chance to change your music. The main screen is 6.7inch of what we've come to know as the standard.
The classic feel of the phone is evident as you open it up to its fullness. The central hinge does its job of making it feel as natural as possible especially for those who are old to remember the likes of the Motorola Z. Let's face it, we're all going to be pulling it out and to open and close it just for the kicks and giggles. It's nostalgic but also very soothing.
Annoyingly there is a slight crease in the middle of the phone due to the nature of the mechanism. It may not be the worst thing in the world but for some, it could prove to be a distraction.
What's annoying more than anything is that Foldable devices have its issues. Nothing unexpected but one that has to be taken into account. The slight crease in the middle of the phone would be annoying for many but one that comes with this device.
Display
Unfolded display: 6.7-inch Dynamic AMOLED, 2640 x 1080 resolution,

120Hz dynamic refresh

Front display: 1.9-inch Dynamic AMOLED, 260 x 512 resolution

Corning Gorilla Glass Victus
We know it's a 6.7inch display, and as always you can count on Samsung not to disappoint in that department. The smartwatch type of screen is 1.9-inch making it big enough for you to see who you missed a call from, your latest like on Instagram and any other notifications you find that are important to you.
Believe it or not, the 1.9-inch display is bigger than the flip 2 and also better integrated. Double-tapping the screen wakes it up before it fades away due to lack of interaction. A very nice touch.
The refresh rate of the main screen fits in line with what we have come to expect; 120hz creating the experience we all deserve for a phone of this size.
Camera
Dual rear cameras:

Main: 12-megapixel, f/1.8 aperture, Dual Pixel autofocus, optical stabilisation (OIS)

Wide-angle (0.5x): 12MP, f/2.2

Front camera: 10MP, f/2.4
The design of the device makes it impossible to do any funky type of layout to illustrate the cameras but that isn't a bad thing. In fact, it benefits a device such as this as it keeps things simple. As such you'll find a main and wide-angle camera, which I'm sure is what you'll really care about.
Knowing that you would have expected that Samsung would go all out to their camera sensors but no, they've stuck with last years 12-megapixel. It isn't terrible but with the focus on two camera lenses, this would have been a great way for Samsung to flex their camera capabilities and keep it at the top of the best of Samsung.
Internal
Qualcomm Snapdragon 888 processor, 8GB RAM

128/256GB storage options (UFS 3.1)

3300mAh battery capacity
You'll find a Snapdragon 888 processor with an 8GM RAM will definitely get your phone going without any issues. But where you will find issues is in the 3,300mAh battery that is meant to make this work. Once again Samsung has gone with what's on its predecessor but we would have expected them to upgrade to at least a 4,100mAh to give you more value for your buck.
Final thoughts
The Flip is another example of Samsung try something new and that will always be applauded. With the latest integration, higher specs would have been preferred but unfortunately, that isn't the case.
It's not an exact flagship, but it isn't terrible. It's still flipping good for a market that didn't exist till they invented it. But with it being in the price range of other flagships there definitely wouldn't be a lot of people eager to get a phone with a 3,300mAh battery no matter how good looking it may be.
However, if that's something you don't care about as you're not really on your phone like that then this phone is an interesting choice. Different form factors, ability to prompt it on the table and take videos and pictures, the sheer confusion of random people around who remember what a flip phone looks like, the Samsung Galaxy Flip 3 is an interesting phone and the Flip market will only get better.
Related posts