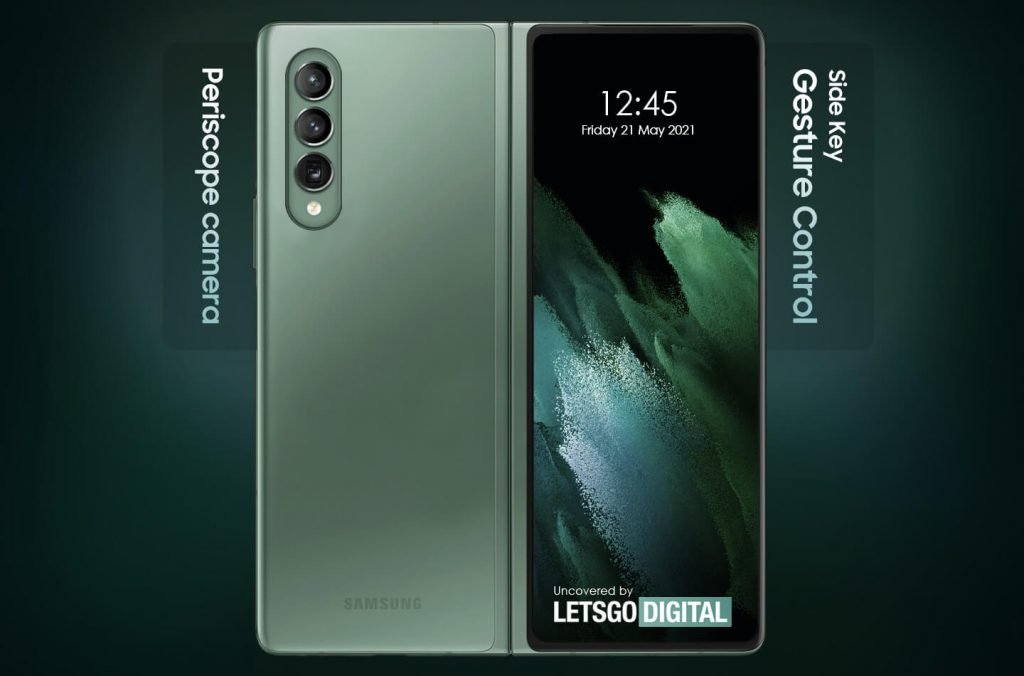 Samsung Galaxy Z Fold 3: a continuation to an untapped mobile phone market
princejumbo, 2 years ago
4 min

read
549
Samsung Galaxy Z Fold 3 continues the trend of showing us what the future of mobile looks like. The foldable device creates a tab like screen that gives you an incredible amount of space for your gaming and watching moments.
But is that it? Well, sort of but more on that shortly.
Design
Armour Aluminium

Colours; Phantom Black, Phantom Green and Phantom Silver 

Matte coating 
It's a fact that this is definitely slimmer than the previous model. But the marginal differences aren't that noticeable as it's still a wedge type of phone. Whats great about the design is its material.
The Samsung Galaxy Z Fold 3 is made from Armour Aluminium and it definitely noticeable for those who have used the previous model. Lighter than ever before and more durable the Fold 3 is definitely still a heavy boy but it isn't the worst that it could have been.
You'll find the fingerprint sensor on the power bottom and of course no 3.5mm audio input, falling in line with the majority of the mobile phone market of today.
The phone comes in three colours; Phantom Black, Phantom Green and Phantom Silver ( my personal favourite would be the green). Due to the matte coating, the phone will pick up some light fingerprints but nothing too distracting.
Overall the phone looks very smart, it's got a sleek matte coating and comes in three sophisticated colours: Phantom Black, Phantom Green and Phantom Silver. For the most part, it stays clean although it does pick up some faint fingerprint marks. The rounded camera module on the back is a welcome change from the rectangular notch that was there before as well.
The design won't appeal to those who want something slim and compact for their pocket but if you want something sturdy that you can keep in your bag without being worried about knocks and bumps then it'll be well suited.
Display
6.2inch display 

7.6inch screen once opened 
In its normal format the Samsung Galaxy Z Fold 3 has an impressive 6.2inch display but once it opens up you're draw in by the 7.6inch phablet screen with all its real estate. What makes it impressive is the Dynamic AMOLED that is found on both screens which has significantly improved its brightness but also conserves more battery life.
Its Samsung after all so expect crisp display that has the right shade of black. The larger display makes entertainment that much more pleasing. Watching your favourite series or playing your favourite game is sure to be an experience worth having on a device of this size. Everyone on your commute is sure to be jealous.
It helps that both screens do have a 120Hz refresh rate, making scrolling and browsing a pleasing experience. Last years model only had 60Hz which, considering the size of the display, wasn't the best move at the time so I'm glad that Samsung has retrified that.
Camera
Triple rear cameras:

Main: 12-megapixel, f/1.8 aperture, Dual Pixel autofocus

Tele (2x): 12MP, f/2.4, optical stabilisation (OIS),

Wide-angle (0.5x): 12MP, f/2.2

Cover camera: 10MP, f/2.2 / Under display camera: 4MP, f/1.8
Going for what can be considered the conventional setup Samsung have gone for a triple 12-megapixel that delivered wide-angle, ultra-wide, and of course 2x telephoto zoom on the rear of the device as well as a 10MP selfie camera. There's a 4MP under-display camera on the main screen which would be used more for video calls.
Overall don't expect top of the line Samsung image captures from this lineup. Images will be bright, may vary in tone but they are still good quality pictures compared to other offerings.
Internal specs
Qualcomm Snapdragon 888 processor, 12GB RAM

4400mAh battery capacity
You'll find a Snapdragon 888 processor inside the device alongside a 12GB RAM. Without it running multiple apps would have caused a delay and the amount of money you would be paying per month or outright wouldn't be worth it at all.
Helping the Samsung Galaxy Z Fold 3 throughout the day will be the 4,400mAh battery. From whats available the battery does seem to be well suited to help you last the day but why it wasn't a tad bit larger is anyone guess.
Final thoughts
Not much has changed between the Samsung Galaxy Fold 3 compared to the Fold 2. And to be honest there's wasn't much too change. Samsung currently dominates a new market and the few tweaks they've done would further strengthen their hold.
With a better-built quality, improved refresh rate that helps take in the glorious 7.6 inch display ( fully opened) you're really investing into the future. And that isn't a bad investment.
But what may be the sticking points is the concern about light reflections and camera quality which is understandable, but the Fold wasn't made for everyone, in fact you can say it was made for a specific group, those who want to be first in line to the next instalment of mobile and that's awesome for the company but also other manufactures who may be on the fence.
Related posts