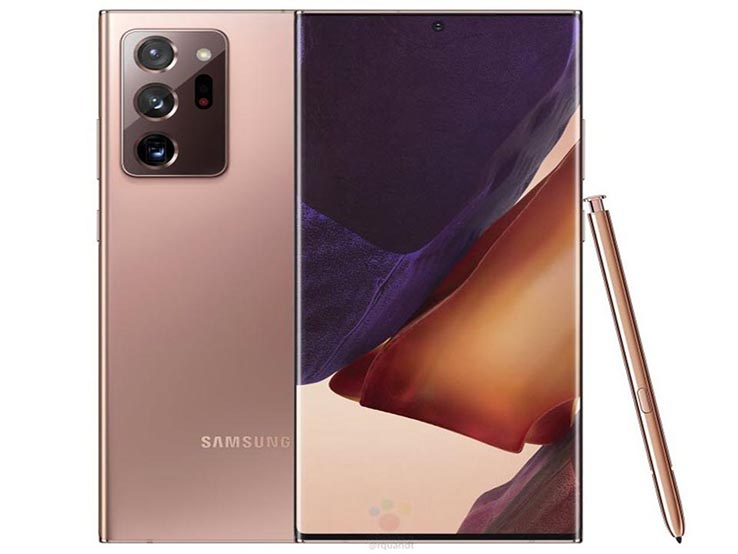 Samsung Galaxy Note 20: Is the smaller Note good enough for it's price?
princejumbo, 2 months ago
0
5 min

read
99
The Samsung Galaxy Note 20 continues the recent trend by Samsung to create a "mini" alongside its flagship device. But lets be clear, there isn't anything small about this phone.
Design
IP68 water/dust resistance

'Glasstic' rear construction

8.3mm thickness

Colours ; Mystic Green, Mystic Grey and Mystic Bronze
The Galaxy Note 20 differnce with its brother becomes apparent on first look. There is no glass rear finish, instead, Samsung has gone for a "glasstic" back that isn't plastic nor glass. Make of that what you will. You can expect the handling of the phone to be the same as always, firm, solid, yet slightly dissimilar with the new rear.
The Note 20 comes in Mystic Green, Mystic Grey and Mystic Bronze with no confirmation of a Mystic Black or White option that is available with the Note 20 Ultra. Describing Note 20 as small isn't a term I would use considering the thickness of the device. At 8.3mm the phone is slightly thicker than the 20 Ultra which happens to be 8.1mm. Yet it doesn't seem that way due to the difference in camera set up compared to the tidiness of the Note 20.
Display
6.7-inch Super AMOLED display, FHD+ resolution (2400 x 1080),

60Hz refresh
At a 6.7-inch is the perfect size for a Note version. In fact, one could even say if it wasn't for the Note first appearance all the way back in 2012 we may not have the big screens we do now. Add the 6.7-inch display with Super AMOLED and flat display and you're guaranteed pure blacks and the colours to pop. The punch hole camera is unmissable, which isn't a preferred choice but it would have to do.
With the majority of new phones choosing to go with 90Hz and most recently 120Hz it's disappointing to see Samsung to choose 60hz on this display. It isn't a deal-breaker, more of an assessment of what could have been. Despite the lower refresh rate, the screen performance is still high unless your scrolling through Twitter or Facebook where it becomes more noticeable.
What the Note 20 lacks, however, is a faster refresh rate panel. Samsung has stuck with a 60Hz screen here, which is behind the curve compared to the 90Hz/120Hz offerings of other flagships. It's not a deal-breaker, because the smoother visuals from such a higher refresh don't benefit everything – you're more likely to notice it scrolling through Twitter than when gaming – but, again, this is a flagship device that's lacking a now common flagship feature. We think this should be a 90Hz dynamic panel, which would be more in step with the series.
Camera
Triple rear camera system:

Main (26mm): 12-megapixel, f/1.8 aperture, 1/1.76in sensor size (0.8µm pixel size), Optical Stabilisation (OIS)

Zoom (3x optical; 80mm): 64MP, f/2.0, 1/1.76in / 0.8µm, OIS, 30x hybrid zoom

Wide (0.5x; 13mm): 12MP, f/2.2, 1.4µm

Front-facing (26mm): 10MP, f/2.2, 1.22µm
Unlike its older sibling, the Note 20 triple rear camera system is arranged in a way that prevents it from having that ugly camera bump. Arrangement alone isn't enough to make it evidently clear that it's not as powerful as the Ultra. Despite the lower zoom and lower megapixel count the Note 20 isn't a phone that shouldn't remain firmly in your thoughts.
The zoom lens has a 64-megapixel sensor which is capable of 3x optical zoom which is a lot for most people. You can expect it o work exceptionally well for both optical and digital zoom purpose
Internal
CPU: Exynos 990, 8GB RAM (for Europe) 

4,300mAh battery capacity, 25W fast-charging

256GB storage, no microSD card slot

4G / 5G options, Wi-Fi 6 connectivity

Samsung Wireless DeX (desktop)
There would be no concern with lagging as the Note 20 is fast and fluid when loading apps, taking notes and even switching between applications. With the battery at 4,300mAh you would have more time to experience the Note full capabilities unlike the Note 10 with its measly 3,500mAh battery. As always expect the fast charging on board (only at 25W) which is enough for most people.
S Pen:
Integrated stylus
47ms response time
New gestures & Notes features
One of the major reasons anyone would be looking towards a note is the S Pen. Has it improved over the past several years? Yes, yes it has. The S-pen is what keeps the Note on its own category because the possibilities have always seemed endless with it.
As always it can be found at the bottom of the phone so its at hand when you need it. According to Samsung, the S Pen has improved by 40 per cent. Its "air gestures" also perform better. Just like a scene out of Hogwarts you can wave your pen in front of your phone to do certain tasks.
But in order to use the full capabilities of the S Pen, you would need to use Samsung's Notes app. This is what put this phone ahead as a "Note" taking device. You're able to write as you would on a paper with the phone recognising each stroke of S Pen to form the letters while converting them to its actual words and phrases. In this latest model, there is auto-straighten which helps tidy up the format better, folder system, and with the recent Microsoft partnership, you can expect integration from the Notes app to OneNote, Outlook and more later on in 2020.
Final thoughts
If you're looking for a phone with a stylus and you don't want to pay above and beyond for it then look no further than the Galaxy Note 20. The lower refresh rate is unfortunate for this particular phone but it may not be as important for your needs. However, if that's a major issue alongside the "glasstic" rear then you might be better off spending more on the Galaxy Note 2 Ultra. But be aware that opting for the bigger model means getting the ugly camera bump that prevents the phone from lying flat on a table.
Related posts